Crane Hire Eastern Sydney
Best
Crane Hire Services

In Eastern Sydney
Welcome to Sydney Hiab Logistics, your trusted partner for superior crane hire services in Eastern Sydney. With over two decades of industry experience, we have established ourselves as the go-to provider for truck crane hire and hiab hire solutions.
When it comes to crane hire, our commitment to excellence shines through. Our team of professionals is well-versed in the intricacies of crane operations, ensuring that your projects are handled with utmost precision, efficiency, and safety. We take pride in delivering exceptional service that sets us apart from the competition.
At Sydney Hiab Logistics, we offer an extensive fleet of crane trucks, including hiab trucks and hiab trailers, to meet the diverse needs of our clients. Whether you require lifting equipment for construction projects, transportation of heavy machinery, or general lifting services, we have the perfect solution for you.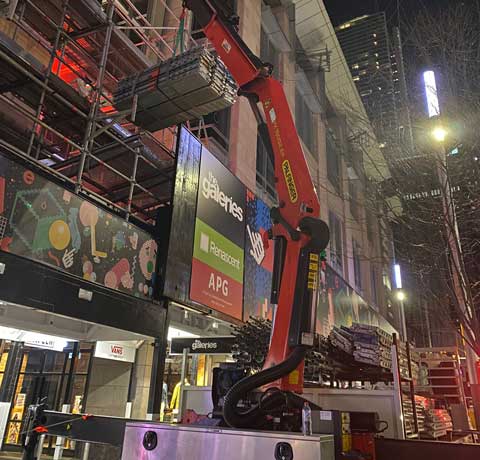 Our comprehensive range of services goes beyond crane truck rentals. We provide comprehensive training programs to equip your personnel with the necessary skills and knowledge to operate our equipment safely and effectively. Additionally, our team of experts is always on standby, ready to handle any repairs and maintenance requirements that may arise during your project.
We understand that time is of the essence, and that's why we prioritize prompt service. Our dedicated team is available day and night, ensuring that your crane hire needs are met at your convenience. We are committed to exceeding your expectations and delivering exceptional results every step of the way.
For all your crane hire needs in Eastern Sydney, look no further than Sydney Hiab Logistics. Experience the difference of working with a trusted partner who prioritizes professionalism, expertise, and customer satisfaction.
Contact us today to discuss your requirements and let us provide you with tailored crane hire solutions that meet your project's unique needs. Trust Sydney Hiab Logistics to elevate your lifting operations to new heights.
At Sydney Hiab Logistics, we specialize in glass transport and machinery transport, offering you reliable services at competitive prices. Whether you need to transport fragile glass items or machinery, our experienced team is equipped to handle the task with utmost care and precision. Rest assured that your goods will be securely transported to their destination, meeting all safety requirements.
In addition to glass transport, we provide a comprehensive range of services for machinery transport. From tank transportation and vessel transportation to dump truck transportation, excavator transportation, and mobile crane transportation, we have the expertise and resources to handle various types of machinery. Our experienced drivers and specialized equipment ensure that your machinery is transported efficiently and securely.
We take pride in offering competitive pricing without compromising on the quality of service. When you choose Sydney Hiab Logistics, you can trust us to provide you with the most cost-effective solution tailored to your specific transport requirements. Contact us today, and our dedicated team will promptly provide you with a detailed and affordable quote for your transportation needs.
Don't hesitate to reach out to us for all your glass transport and machinery transport needs in Eastern Sydney. We are committed to delivering reliable, secure, and on-time services that meet and exceed your expectations. Experience the difference of working with Sydney Hiab Logistics. Call us now to get started!
We Are A Professional And Licensed Transport Company
For reliable and professional transport services in Eastern Sydney, contact Sydney Hiab Logistics. Our team consists of licensed professionals with extensive experience in the industry. We pride ourselves on our courteous and attentive approach, always taking our customers' concerns seriously.
Our top priority is Safety. Our team is trained to follow strict safety protocols and utilize the latest lifting and transporting tools and techniques. This ensures the secure transportation of your materials, giving you peace of mind throughout the process.
If you're planning a relocation or need to transport your equipment in any Suburb, trust Sydney Hiab Logistics to handle the job with care. Our skilled professionals will take care of every aspect, ensuring a smooth and efficient transport experience.
Whether you require material transportation or construction and building transport services in Eastern Sydney, we are dedicated to delivering quality service within the agreed time frame. You can rely on our expertise to handle your transport needs effectively and efficiently.
Contact us today to discuss your requirements and receive a quote tailored to your specific needs. Our friendly team is just a phone call away, ready to assist you. Trust Sydney Hiab Logistics for reliable transport services that prioritize safety and customer satisfaction.
We also provide other crane truck hire services such as:
Freight forwarding 
Pool & spas equipment transportation
Heavy equipment lifting 
Machine transportation 
Glass and window frame transportation and delivery
We provide various long or short distance transport including door-to-door service, you can contact us for any of your problems. We are well known to provide excellent transportation service in the Sydney area, and clients' testimonials prove it.
frequently
asked

questions

(FAQ)