Machinery Transport
#1 Hiab Crane Truck Hire In Sydney
Machinery

Transport

Sydney
Sydney Hiab Logistics offers the perfect tractor-trailers to get your  machinery there safely; whether you're transporting it locally or across the Sydney, we strictly consider the type of machinery, weight, height, form, and other factors to guarantee that your machinery equipment is transported safely. 
We routinely offer machinery transport and relocation services across Sydney, including tank transportation, vessel transportation, dump truck transportation, excavator, mobile crane transportation and all other forms of machinery.
When it comes to machinery transport, Sydney Hiab Logistics is your trusted partner. We understand the importance of safe and reliable transportation for your valuable machinery, whether it's a local delivery or a long-distance move across Sydney. Our dedicated team ensures that every aspect of the transport process is meticulously planned and executed, taking into consideration the specific requirements of your machinery.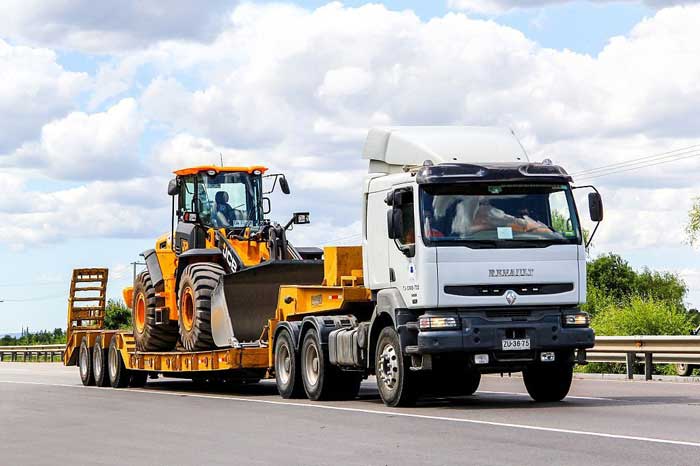 One of the key factors we consider is the type of machinery being transported. Different types of machinery have unique characteristics and handling requirements. Whether it's a heavy-duty tractor-trailer, tank, vessel, dump truck, excavator, mobile crane, or any other form of machinery, we have the expertise and equipment to handle it with precision and care.
Weight and height are critical considerations in machinery transport. Our experienced team evaluates the weight capacity and size restrictions of our crane trucks and trailers to ensure that your machinery is loaded and secured safely. We take into account the dimensions and weight distribution of the machinery to determine the appropriate rigging and lifting equipment needed for the transport process.
At Sydney Hiab Logistics, we recognize that every machinery transport job is different. We tailor our services to meet your specific needs, whether it's a single machinery relocation or a complex project involving multiple pieces of equipment. Our skilled operators and drivers are well-versed in handling a wide range of machinery, ensuring that your valuable assets are protected throughout the journey.
Our commitment to safety is unwavering. We adhere to strict safety protocols and industry regulations to guarantee the secure transportation of your machinery. Our fleet of well-maintained vehicles undergoes regular inspections and maintenance to ensure optimal performance and reliability. Additionally, we provide comprehensive insurance coverage to offer you peace of mind during the transportation process.
When you choose Sydney Hiab Logistics for your machinery transport needs, you can expect professionalism, efficiency, and personalized service. We strive to exceed your expectations and deliver your machinery on time and in pristine condition. Our team is dedicated to providing transparent communication, keeping you informed about the progress of your transport job every step of the way.
Experience the difference of working with a trusted partner for machinery transport in Sydney. Contact Sydney Hiab Logistics today to discuss your requirements and receive a tailored solution that meets your specific machinery transport needs. Trust us to handle your machinery with the utmost care and deliver it safely to its destination, wherever it may be across Sydney.
We Are Professional, Licensed Machinery Transport Company
Sydney Hiab Logistics is your trusted partner for fast and reliable machinery transportation services throughout the Sydney area. With our team of licensed drivers who boast decades of experience, we guarantee seamless and efficient handling of all your machinery transportation needs.
Whether you require self-loading service or prefer the convenience of door-to-door transportation, we have you covered. Sit back and relax while our dedicated professionals take care of the entire process, ensuring a worry-free experience for you.
Safety is our top priority at Sydney Hiab Logistics. Our staff adheres to stringent safety protocols, including OH&S regulations, to ensure that every job is executed without any accidents or incidents. Your valuable machinery is in capable hands.
You don't have to be worried thinking  if anyone will be able to transport your equipment safely. We will ensure the safe transportation no matter how large the size of the equipment.
We also provide other crane truck hire services such as freight forwarding service and pools & spas equipment transportation.
Freight Forwarding Capacities
At Sydney Hiab Logistics, we uphold industry-standard freight forwarding procedures, including sea freight, air freight, door-to-door service, road haulage, and more. Our aim is to provide top-quality freight services that enhance supply chain flexibility, predictability, and efficiency. We tailor our solutions to meet your specific requirements, be it single shipments or complex multi-location logistics programs.
Pools & Spas Transportation And Delivery
When it comes to buying or selling a pool or spa, the logistics of moving it shouldn't be on your mind. At Sydney Hiab Logistics, we understand this concern and offer a hassle-free solution.
Get a free quote with every order by providing us with details about the transportation location, and within 24 hours, our expert technicians will handle all your transportation needs during the purchase or sale process. We specialize in setting up spa pools in your outdoor space, ensuring you can enjoy your new home to the fullest. Let us take care of the lifting while you focus on settling in or making the sale.
Have Any Question? Call Us For Free Consultation
Best Crane tuck Hire Sydney
frequently
asked

questions

(FAQ)
Need

other Crane Truck

SERVICES