Safety
and Compliance is in our

DNA
When it comes to crane truck and hiab truck hiring and renting for our clients, safety and compliance are always our top most priorities. We only work with carefully vetted, experienced operators who are licensed and insured. 
Since we work with machinery, height, steel, glass, and electricity, health and safety of our crew, surrounding environment and the cargo are our priority above everything else.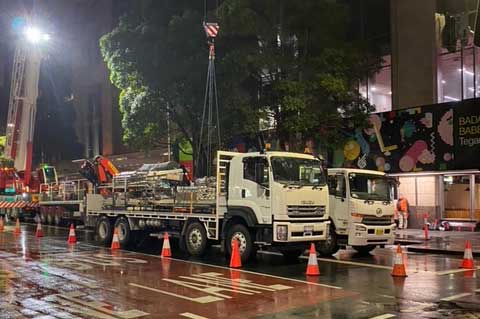 Health & Safety Guidelines for Employees
At Sydney Hiab Logistics , safety is a top priority for everyone on our team. We want all our employees to be safe at work each day so that they can go home safely after hours- just as we do when it's time to return from site!

We continuously train together with everything necessary in order reduce accidents or injuries both during construction projects and while traveling between jobs sites – which means less risk involved.

We work under strict guidelines and standards.This includes Worksafe Victoria's strict occupational health and safety guidelines for cranes and lifting equipment and the safe erection of structural steel.

If your work involves machinery and equipment (plant), there are specific duties and obligations you need to comply with under the Occupational Health and Safety Act (OHS Act) 2004 and Occupational Health and Safety Regulations (OHS Regulations) 2017. This compliance code gives you practical guidance on how to comply with those duties and obligations.
When it comes to construction, there are a lot of safety precautions that must be taken before any work can begin. For example: ensuring proper ground conditions by removing snow and ice from sidewalks; making sure water access points along building walls aren't obstructed with bushes or furniture so scaffolds won't have difficulty reaching their destination point on-site (the "working area"); securing equipment during bad weather such as heavy rainstorms which could cause flooding–all this would potentially jeopardize worker's lives if not handled carefully! And we follow strict guidelines to ensure environmental and community safety during any transportation.

The importance of weather when performing crane assembly and operations cannot be overstated. Various weather conditions can affect ground stability, visibility, workers' performance and grip and, in extreme circumstances, even lead to a crane overturning.

This is why we always include weather conditions in the employer's work plans. Additionally, weather should also be one of the topics discussed at each safety meeting
Our crane trucks undergo regular safety inspections, and we always make sure to follow all local regulations. Before starting every work on-site, we do careful risk management assessments to avoid potential complications or risks.
We offer a wide range of crane truck sizes to accommodate any job, big or small. So whether you're looking to rent a crane or hiab truck for a construction project or a simple home renovation, you can rest assured that you're in good hands with us.
Contact us
today to learn more about our crane and hiab truck rental services.
Have Any Question? Call Us For Free Consultation